Who does not desire white teeth? Today, teeth whitening has turned out to be one of the most common requests that dentists receive from their patients. Whitening can be defined as a process that can make your teeth look whiter. This whitening is achieved through the use of a product that leads to an intrinsic alteration to the enamel of the tooth, instead of surface stain elimination.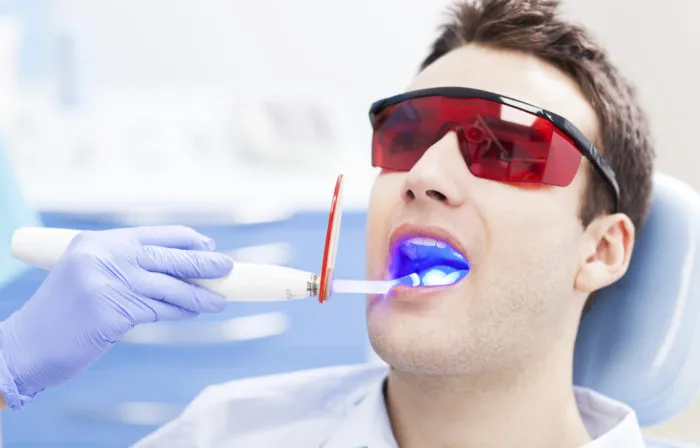 Laser teeth whitening can be an alternative that an Atascadero dentist can recommend for you; however, it is crucial to note that this treatment alternative is not the best for everyone. Product efficacy and safety is paramount for the best results with few or no side effects at all.
Your Options
Bleaching or tooth whitening is one of the least invasive and most cost-effective procedures that can enhance your smile. Nonetheless, according to a report by the ADA (American Dental Association) on tooth whitening, these processes are not devoid of contingencies. It is suggested that all process must be supervised by a dentist; a dental exam must be carried out to determine the safest option that is suitable for your tooth whitening process. Your alternatives include products that you purchase for home use, materials offered by the dentist to be used at home, or procedures carried out in the dentist's office.
Laser Procedure
This method of tooth whitening is carried out in a dentist's office exclusively, and it can be seen as the most expensive process for tooth whitening. Each tooth is applied with bleach, and then the heat that is generated by the laser improves its effectiveness while eventually speeding up the procedure. This process utilizes a very strong bleaching gel which the laser activates and improves for fast, and dramatic results. The American Dental Association notes that the bleach that is generally used for tooth whitening is a hydrogen peroxide gel which ranges from about 25 percent to 40 percent in terms of concentration levels. With such high concentration levels, dentists need to take special precautions so as to reduce tooth sensitivity and also protect the gums, lips, and other tissues in the mouth from getting damaged. These special precautions include the following:
• Professional use of fluoride or any other similar desensitizing product
• The use of desensitizing pastes
• Formulated soft or rubber dams to enclose the gums
• Cheek retractors
Your Options
Tooth whitening can be achieved through the utilization of the OTC (Over-The-Counter) products and professional systems. The OTC products are readily available at your local supermarket or drug store, and they are limited in their concentration percentage of whitening constituents. The professional applications can be used in both office, and home treatment and they give better results because of their higher percentages/concentration of the bleaching components, and their application method. Bleaching or OTC whitening products come in different forms including:
• Whitening paint-on gel
• Whitening chewing gum
• Whitening strips
• Gel used in trays
• Rinses and toothpaste
What You Need To Keep In Mind
The process of laser teeth whitening takes almost one hour in your dentist's office. Sometimes, several treatments may be done to get the desired results, and the bleaching trays that you use at home may also be required to improve the end results of the procedure. Not everyone is qualified to undertake this procedure, as a dental exam must be carried out to determine if the person is the right candidate for the procedure. You should also keep in mind that laser teeth whitening process is a cosmetic procedure, and therefore it is not covered by your dental insurance.
Treating Your Sensitive Teeth after Laser Teeth Whitening
At times, after a laser whitening procedure, your teeth can be very sensitive. In case this takes place, you have the following alternatives to reduce the pain.
• Avoid Whitening products. Take a break from tooth whitening products and go without them for 2 to 6 months.
• Chew gum. Scientists have discovered that a person produces a lot of saliva when they are chewing gum. The act of chewing gum can also distract you from the pain that you might be feeling.
• Start using a sensitivity toothpaste. These types of toothpaste are produced with ingredients that relieve pain that is linked to teeth sensitivity. The most common compound in sensitivity toothpaste is potassium nitrate, which is a compound that helps in getting rid of the pain.